Pros and cons of email advertising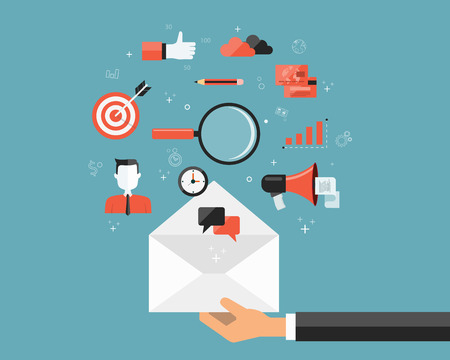 There are many internet marketers and advertisers out there who believe that email is no longer a valid method of reaching the masses, and as such, they abandon it altogether. This is actually a big mistake because email is still a very valid, oftentimes effective way of reaching a lot of people, and all without investing a lot of time or money. There are, as you would expect, some definite pros and cons that come along with
email ad serving
, just as there is with every form of marketing out there. Use email correctly and you can really give your marketing efforts a solid boost. Before you get started, though, you may want to look at some of these pros and cons:
Greater revenues
If you have an online business, or even a bricks and mortar one for that matter, it's always a good idea to build and maintain a list of subscribers. Having people opt-in for your email messages means being able to reach them with news, any deals or new products that you may have coming. You are essentially able to advertise to your list via email, but you need to be sure that these are all people explicitly asked to receive this correspondence. If they have not, you are essentially spamming them, and could ruin your reputation and face blocklists.
Fresh content
Your email ads can help provide something new and useful. The content can be in the form of a sales event, an online promotion, or even sponsored content that shows why using a specific product can help solve a common problem that your target audience may be forced to deal with. The only thing that you need to do here is making sure that the content you are delivering is related and relevant to what your subscribers signed up for.
Easier ad selling
Advertisers are always looking for ways to reach as many people as possible, and offering them prime real estate on your website may not be enough to convince them to buy ad space with you. Make it a package deal by also adding their sales banner to your newsletters and you may well get advertisers who were on the fence give more thought to buying ads from you.
Delivery issues
Even when people opt-in to receive your emails, they may still not show up in their inbox. Email providers now actively look for messages that they believe to be spam or unwanted. Algorithms often look for messages that contain certain words and phrases. There are ways around this issue. First, you need to write an ad copy that is informational, useful and not too promotional or spammy. Second, you should ask your subscribers to whitelist the email address that you use for these messages. This will ensure that they reach their inbox as intended.
Ad formats
When you deliver an email that contains ads, you want the message to really jump out, which mean using JavaScript, HTML or Flash. While these more elaborate ads look great on your website, it is not the same on email viewing software. Many email readers block and disable JavaScript and other HTML tags for privacy and security purposes. Therefore, keeping the messages and ads simple as plain text or image banner will ensure that more people will be able to see them.
Related
Five benefits of having an email ad server

"We are all well aware that there is money to be made from online advertising, whether directly promoting your own products/services or serving ads for your advertisers. If you have built up a large mailing list over the years and are not including ads in your emails and newsletters, you could be missing out on a lot of money. " More

Ad serving tips for email marketing

"There are countless different ways to get the word out and make money via advertising. While some advertisers focus on website ads, there are plenty more who understand the power of email. " More

Five limitations with serving ads in email

"With the rise of the internet, it has become easier than ever to quickly and affordably reach a lot of people for the purposes of marketing. Email marketing was one of the very early methods of getting your message out to the masses. " More