How to build a sustainable revenue stream from online advertising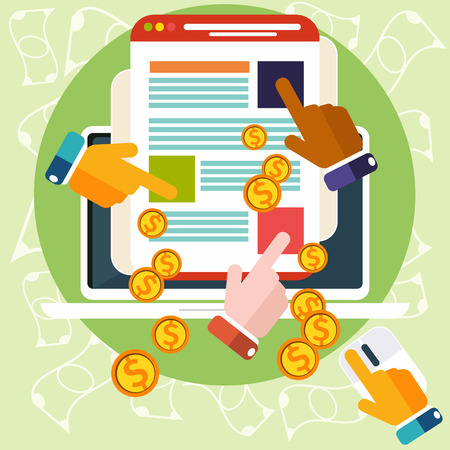 Advertisements are obviously a big deal when it comes to generating revenues for online businesses. Some website owners have a misconception that making money through online ads is easy and anybody can do it. However, they will realize that real efforts are required to make it a success after going through the experience of implementing it in their websites. As a website owner, you might have many questions on various possibilities of displaying ads on your website. While site traffic and page views are very important for ad revenue generation, optimizing the ads and their placements are also critical to make a positive impact on your audience and get good returns on your website.
If ads do not reach the right audience, they are unlikely to get enough clicks and conversion revenues from those clicks. Implementing wrong advertising practices may even annoy the audience and hurt website reputation. Indeed, it may also force them to install ad-blockers if they think the ads are too bothering and inconvenient. By implementing some simple ad techniques, you can significantly increase audience retention and generate higher ad revenues on your website.
Limit number of ads in Above-the-Fold area
The area of the website that is first visible to the audience without scrolling down is called "Above-the-Fold" area. Generally, people do not like to see too many ads in that area because it is a distraction to the purpose of their visit. The visitors may feel irritated and lose interest if they are bombarded with too many ads as soon as they enter the website. Instead, it is better to leave that space for a few premium ads and spread the rest of them across various pages of the website.
Consider ad placements as an integral part of the website design
Regardless of how many ad placements you have on the pages, make sure they integrate smoothly with your website's design. When optimizing the website for advertising, make sure you match ad dimensions with the website layout. Ad units that are blended naturally into the content has a higher chance of getting clicked by visitors than those that are not structured well with the design or those stand out like an eye sore.
Use the right ad targeting settings
Simply running the ad campaign and hoping for the best is not going to fetch good revenues for your website. To run an effective campaign, it is also important to think from audience's point of view and use the right methods to target the ad message. People are less likely to tolerate ad practices that are annoying and disturbing to them. They actually appreciate and feel more comfortable with ads that are targeted and relevant to their interests.
Choose between text versus visual
For online visitors, reading text ads is boring and time consuming. Once they found what they need within the website, they want to move on rather than spending time reading the advertisements. When it comes to choosing between text and visual ads, choosing images ads or a combination of image and text is more appropriate because they not only reduce the effort of reading but is also quick in capturing the audience's attention.
Minimize pop-ups and flashy animations
The inherent problem with pop-ups and blinking images is that they disrupt what the web users were doing in the first place. Not many of them like to waste their time in closing the pop-ups or direct their eyes away from flashing banners as they cannot focus on the real content. This kind of disruptive behavior can be intimidating and the visitors may feel as if they are being forced to see the ads, which is not a positive or sustainable outcome.
Manage ads using an adserver
When a website starts to have a decent volume of ad campaigns then it will be difficult to manage ads and track revenues on your own. If you are from one of those specific groups like publishers, advertisers, ad networks or agencies who depend on advertisements for generating online revenues, getting help is important. In such cases, using a good
banner ad server
is very helpful and effective as it not only helps control various ad operations but also monitor the progress of all advertising campaigns easily.
Posted in
Ad Strategies
July 17, 2017 (first published October 2016)
Related
5 ways to earn more advertising revenue

"Increasing ad earnings is an important goal for website owners that want to monetize their traffic through advertising. By generating more revenue from advertising, businesses can offset the costs of running their websites, spend more on content generation, marketing and even turn a profit. " More

How many advertisements should you have on a web page?

"The number of advertisements that a publisher should have per page depends on a variety of factors, including the goals of your business, the website design, and the preferences of the target audience. Those are just a few considerations to consider when deciding how many advertisements to have per page: " More

Popular ways to monetize your website

"It is entirely possible, not to mention affordable, to easily create a website and have it up and running in a matter of hours. It is the creation of a site that is the easy part, especially with so many site builders out there that are incredibly user-friendly. " More